2000Clarendon
2000 Clarendon Boulevard, Arlington, VA 22209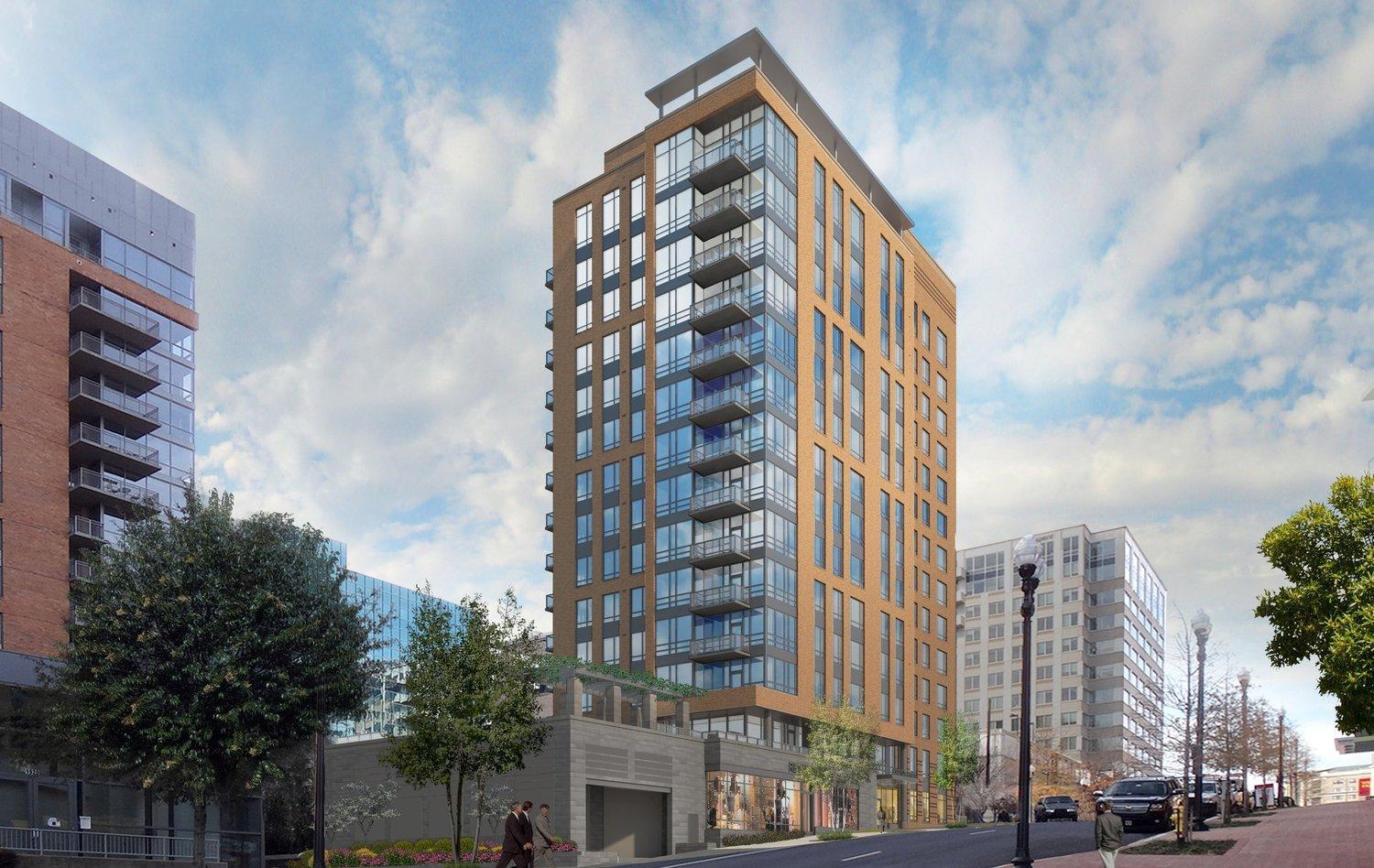 Year Built: 2019
Type: Highrise
No. of Units: 87
Status: Under Construction
Area: Courthouse
Reviews
4.4 out of 5 stars (based on 11 reviews)
Amazing Monument Views
If your number one criteria is to have a million dollar view, this is the place for you. Perched on a hill side overlooking the Marine Corps Memorial (aka Iwo Jima), the views from the units on the eastern side of the building are almost dead center with the Lincoln Memorial – Washington Monument – US Capitol axis.
On top of the building is Top of the Town – an event venue with incredible views.
Amenities include a large swimming pool on the south side of the building, a fitness center, a common laundry room, and 24×7 front desk.
High condo fees and no in unit laundry keep this building from being a 5 star.
The Rosslyn Metro is just a short walk away.
Simple. Modern. Clean.
One of Clarendon's most unique boutique buildings. No frills, but great design. Just a 1/2 block to the Clarendon metro. There is a dog park adjacent to the building to the north. I would give this building five stars if it had some amenities, but it doesn't. Some people might prefer that to keep condo fees down.
In the heart of Clarendon
Station Square is located in the heart of Clarendon and is just steps to the Clarendon Metro on the Orange line. Its neo-classical architecture, courtyard, and street-level storefronts and businesses give it a unique personality.
What you didn't know: Floors 1-4 are 'urban lofts' with exposed ceilings and ductwork; the upper floors are 'classic' design with the more common finished ceilings.
The Name: The full name of this development is The Residences at Station Square, but it is commonly referred to as just Station Square.
Floorplans: A variety of studio, 1BR, 1BR+den, 2BRs and 2BRs+den.
Building Layout: The complex is made up of 3 buildings, 1201 N Garfield St (Building 'C'/Phase III), 1205 N Garfield St. (Building 'B'/Phase II) and 1220 N Fillmore St. (Building 'A'/Phase I) rising up to 10 stories
Amenities: A nice party room is located in the 1201 N Garfield St building with a large bar and kitchen area, pool table and big screen TV. To use the party room, a reservation and deposit are required. Also in the 1201 Garfield building is a two-tiered pool and deck area. There is no fitness center, but there is a Gold's Gym in the 1220 Fillmore building.
Retail: A variety of restaurants (Cava Mezze, Le Pain Quotidien) and shops are located on the ground level.
Condo Fee Includes: CAM, Ext Bldg Maint, Landscaping, Management, Master Insurance Policy, Pool, Reserve Funds, Security, Sewer, Snow Removal, Trash Removal, Water
Package Delivery/Pickup: Packages can be delivered during normal business hours and residents can pick up packages from a dedicated storage room.
Pet Policy: 1 dog or cat – no weight limit.
Metro: Station Square is only a short block to the Clarendon Metro.
Parking: 3 level underground garage; a variety of full size and compact size spaces. The garage also has public parking available for the retail establishments.
Laundry: Each unit has a washer & dryer.
Area: Located in the heart of Clarendon, there are numerous retail shops, restaurants, and nightlife at your doorstep. A Trader Joes is one block away and Whole Foods just a little farther.
Let people know what you think and write your own review! Tell the good and the bad. Rules: 1. NO solicitation of any kind. 2. Abide by Fair Housing Laws (describe the building not the people in the building and you should be fine). 3. Keep it clean. All reviews are monitored.